I solemnly swear I am up to no good. *Tap*
Welcome to a brand new feature!! The Marauders is a feature where three book blogger friends share their many exciting adventures! Whether it be sailing the Charles River, ritualistic sacrifices in Salem, scaling the face of the Old Man of the Mountain in New Hampshire, or simply visiting a local independent bookstore, it's bound to be a blast! Our grand adventures take place along the six states that encompass the vast and wonderful New England. Join me, Marci of The Plot Bunny, and Nicole of Nicole's Novel Reads as we bring you along on our adventures, but keep track of us, for sometimes we shed our human forms and revert to our animagus forms! (Don't worry, we're registered!)
Our June adventure was not New England specific! Barnes and Noble hosted their first B-Fest Teen Book Fest. Hundreds of authors appeared in Barnes and Nobles nationwide! There were creativity panels, author signings, games, and a major swag giveaway! Nicole, Marci, and I only attended the swag giveaway. We had planned to come back for the games, but you'll see later what held us up.
Marci and I arrived early – we were very ready to get our hands on STALKING JACK THE RIPPER ARC. We arrived at 9:30 and the giveaway wasn't until 11. We grabbed some breakfast at the B&N Cafe. I was very sad as they didn't have my new obsession – the pink drink! Have you tried Pink Drink yet?
We then found the Young Adult section of the book store and began to browse. Marci was telling me about THE MUSEUM OF HEARTBREAK by Meg Leder. She had just finished reading her ARC copy and she loved it! A five star read from her. You can read her review here.
SourceBooks Fire had a cutout in the store advertising THE CABIN by Natasha Preston. Marci and I both took our pictures and tweeted them on Twitter!
#survivethecabin #bfestbuzz #SourcebooksFire Seven enter, five exit…I would not have been one of the five. pic.twitter.com/v59JJLwTmD

— Elizabeth Stiert (@BookYAbber) June 11, 2016
5 came out alive…did I make it? ? #survivethecabin #bfestbuzz @SourcebooksFire pic.twitter.com/6s0KzNQ6Lp

— Marcilia (@MarciliaLoubach) June 11, 2016
Shortly after we posted our photos to Twitter, Nicole arrived! The Barnes and Noble we were at had a balcony, so when we got a text from her saying she was here, we creeped on her from above! Hehe, sorry Nicole! The event was a little late to get going. At 11AM, the table was out and they started spreading out all the swag!
Photo Courtesy of Marci
We all grabbed our loot piles. I was lucky to grab an ARC of STALKING JACK THE RIPPER by Kerri Maniscalco. I also grabbed the FIERCE READS Coloring Book!
Then we were off, across the street, to the Cheesecake Factory for lunch! I unfortunately didn't like the meal I picked, but I made up for it by ordered a huge slice of chocolate fudge cake! Marci and Nicole luckily enjoyed their meals and their desserts!
As we were leaving Cheesecake Factory to enter the mall, we noticed that it had downpoured! Thankfully we missed the rain by being inside. Next stop, The Disney Store!
I love going into The Disney Store because I'm a kid at heart! Star Wars, Snow White, Winnie The Pooh, and Captain America GALORE! Who are your favorite Disney characters?
We walked into the store and I know that I felt like a child in a candy store. There was so much to look at, so much I wanted to take home with me! We immediately started hugging the stuffed animals and taking photos.
LEFT: Marci looks like a princess in that beautiful gown. Nicole and Olaf are staying cool. You can call me Captain Phasmabeth. RIGHT: Nicole and NEMOS! Marci and Stitch! I stacked Captain America Tsum Tsums!
We left The Disney Store and were on our way to back to Barnes and Noble for the second part of the event: GAMES!
. . .We didn't make it though. We walked into the rabbit hole otherwise known as Claire's (So much nostalgia). Much hilarity ensued.
Alcohol was not involved. We're just FUN people!
By the time we got back to Barnes and Noble the games had ended. So we decided to walk around and grab books that we want to recommend for Summer Reading!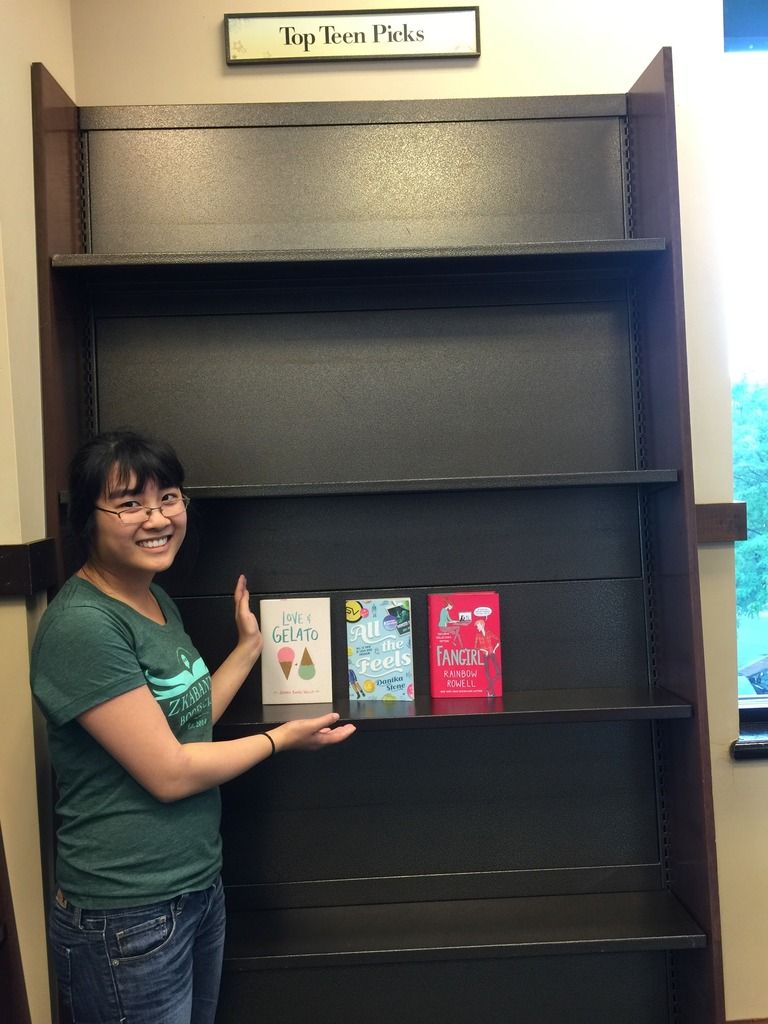 I recommend: WHEN WE COLLIDED by Emery Lord, SUMMER OF SLOANE by Erin L Schneider, and TO ALL THE BOYS I'VE LOVED BEFORE by Jenny Han.
Nicole recommends: LOVE & GELATO by Jenna Evans Welch, FANGIRL by Rainbow Rowell, and ALL THE FEELS by Danika Stone.
Marci recommends: THE MUSEUM OF HEARTBREAK by Meg Leder, WINK, POPPY, MIDNIGHT by April Genevieve Tucholke, and LOVE CHARMS AND OTHER CATASTROPHES by Kimberly Karalius.
Woah, that was a long post, thanks for sticking to the end. I hope you enjoyed this month's Marauders post. Our next post will be the first week of August. It might cover some very special event occurring on the last day of the month, having to do with a very special book series. Like, perhaps the EIGHTH book. . .or something. HEHE!
*Tap* Mischief Managed.